Utility App Market: How to Create An App With 10M+ Downloads
by The Content Team at AdTech
31 January, 2023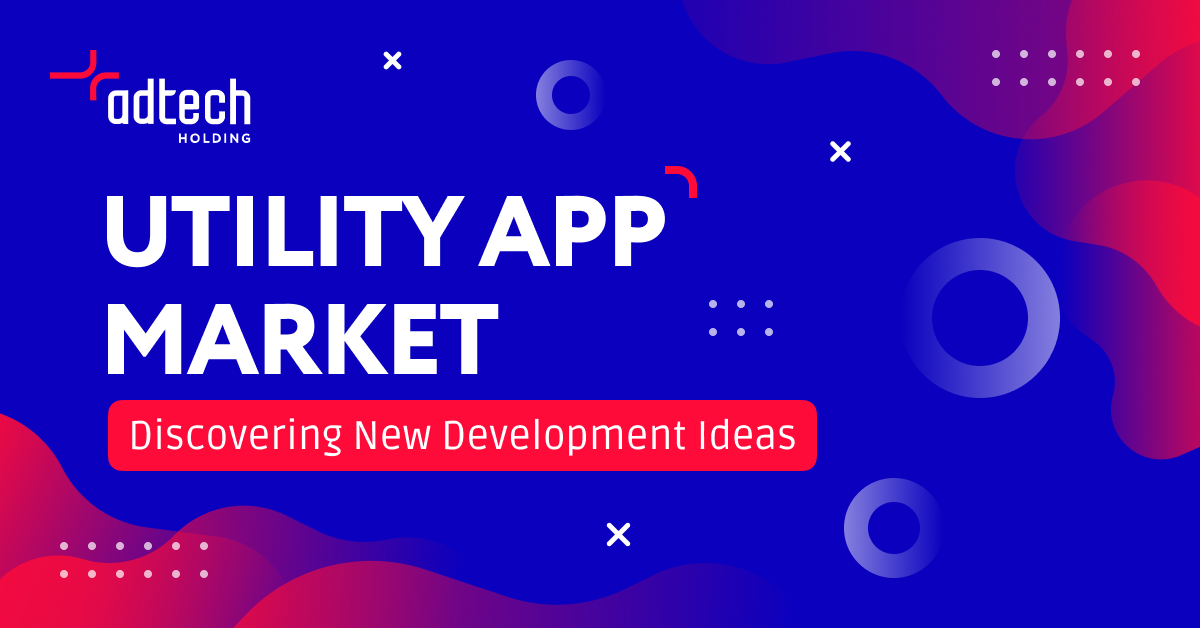 The Utility market inspires much confidence with its evergreen popularity and well-known ways to monetize and promote apps.
According to the latest report of Adjust, the app analytics company, Utilities has become the sixth biggest app niche by ad spend distribution worldwide. With the constant market growth, the utility app niche has become a big focus of AppLabz, a startup working under the umbrella of AdTech Holding.
The AppLabz team knows the ropes of utility app development; thus, its members became the perfect candidates for speaking about this promising industry. Today, we will share the views and experiences of AppLabz regarding the latest trends, ideas, and overall approach to utility app development that leads the startup to constantly growing success.
---
Utility App Market Trends 2023
To prove the Utility app market is an industry worth investing in, we will start with pallid statistics, which vividly show the current condition of the niche. The infographic below is prepared based on the Adjust research: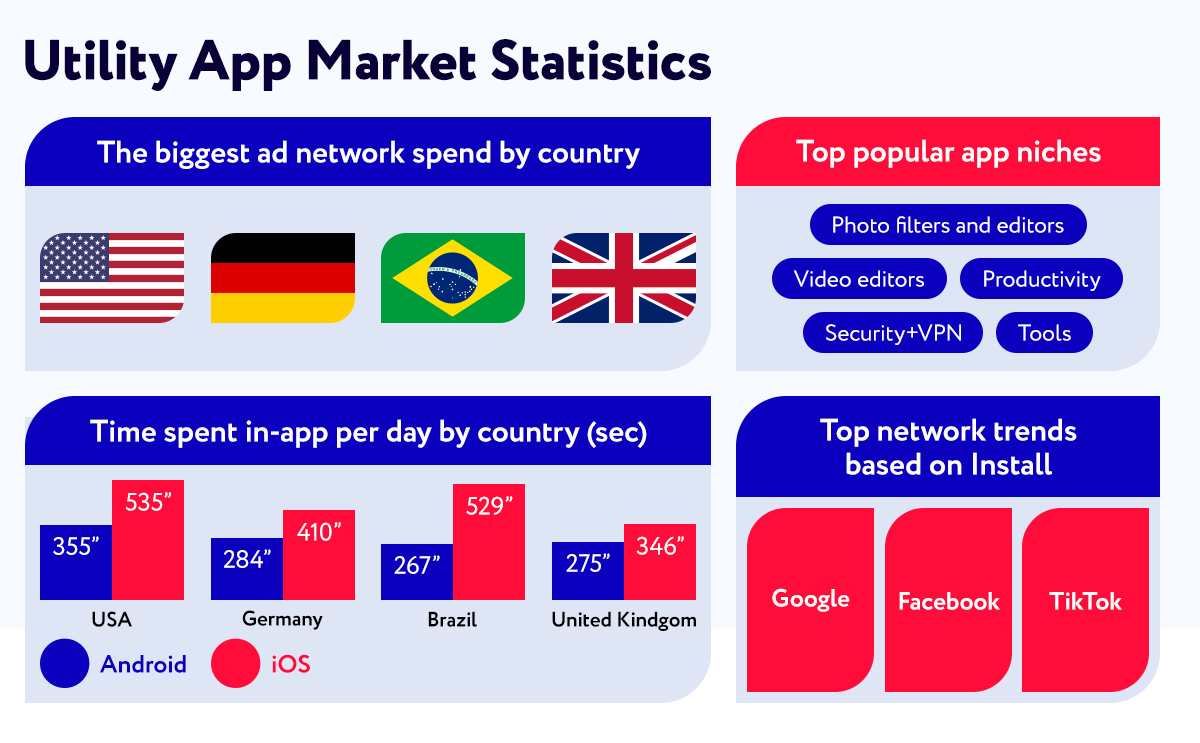 Ilya Pasyuk, Head of Development at AppLabz: I also see a big trend in multi-utility apps, combining several tools in one. For example, it can be an app containing a VPN, a space cleaner, an antivirus, and a QR scanner in one. Such apps are less effort and budget-consuming to monetize: they are aimed at a larger audience and can be promoted within a single ad campaign.
---
Overcoming the Competition: AppLabz Experience
As it became clear from the statistics, utility app development is a profitable business that still requires large investments due to high competition levels. A quick search in the App Store or Google Play might give an instant idea that the market is already oversaturated with VPNs, phone cleaners, and photo editors.
So what are the possible solutions on how to stand out from the competition? Is it finding unhackneyed ideas that will be the key to success, or is there an alternative path? We asked these questions to Ilya Pasyuk.
Ilya Pasyuk: when we at AppLabz make a decision on which app we would like to develop, we do it with the customer's needs in mind. To understand what consumers will find helpful and willingly use, we refer to various in-house and external research. For example, statistics on ad spend and positive examples of similar apps might help.
This is why exactly we chose to develop our QR scanner and VPN apps: with a minimum user learning curve and inspiring figures shown by research, they were very likely to succeed.
Besides, it's essential to understand how the app will be monetized in the long run. We had an experience with an Instagram story-making app — it was perfectly good in the development and release stages, but further monetization turned out to be much more demanding than we initially thought.
Overall, we don't see a big necessity in looking for innovative ideas on purpose and coming up with solutions the market hasn't seen before. First, new discoveries stop being fresh after a very short time, like it is currently happening with, say, AI image generators. Second, proven niches are much more reliable — and give big confidence in terms of user needs.
---
How to Launch Utility Apps Onto Market
Statistics say 99% of all user apps fail. This happens due to various reasons, but the app interface or technical mistakes are not among the major ones. How to avoid failure? To answer this question, we decided to share AppLabz's successful experience of introducing new utilities to iOS and Android users.
---
JAX VPN: Concept Example
To make it more illustrative, we will analyze the AppLabz approach to the example of its app called JAX VPN. Built with the Flutter framework, JAX VPN is available for both iOS and Android and is monetized via paid subscriptions and in-app advertisements.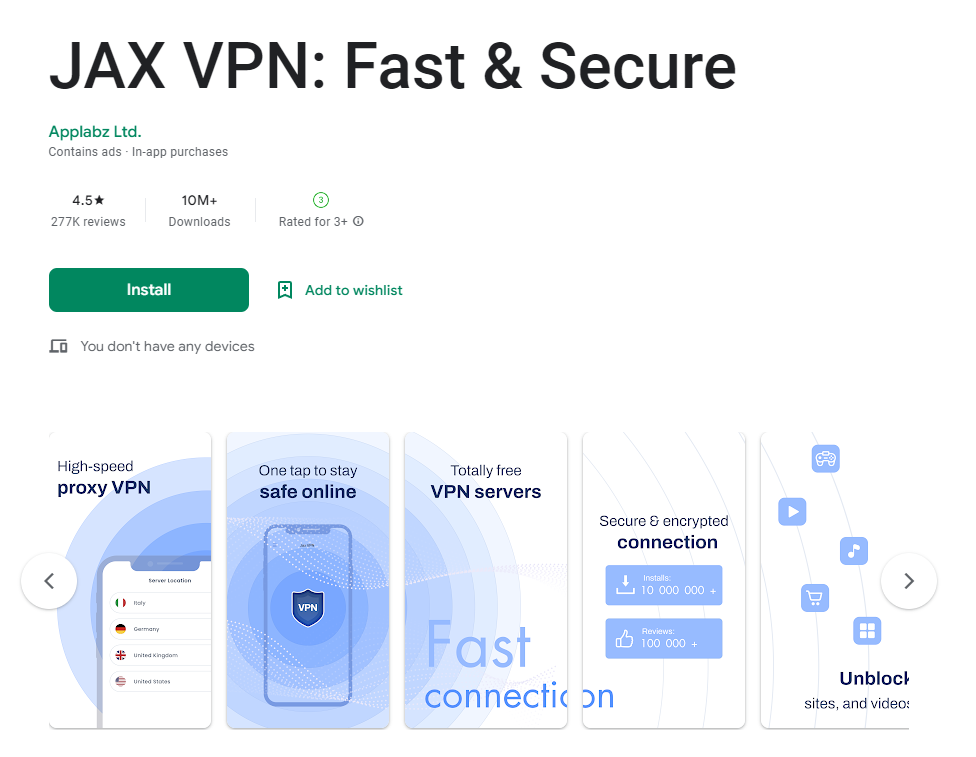 Here is the whole way from the idea to the development that can be considered as a proven approach to working with Utility apps.
Step 1. Using its in-house knowledge from the PropellerAds advertising platform plus information from various third-party reports, AppLabz found out that VPN apps usually get a reasonable amount of high-quality traffic.
Step 2. Monetization solutions. AppLabz team decided to stick to the classical approach most apps use: monetize the free version of the app with the ads or offer a paid subscription as an alternative.
Step 3. Development. At this stage, AppLabz created the first version for App Store and Google Play. A cross-platform solution like Flutter or React Native was important to launch an app for both stores. Otherwise, you can never discover how profitable it could have been to have a version for another store and thus lose money.
Step 4. Launching a user acquisition campaign. After the app was ready, AppLabz created acquisition campaigns in PropellerAds, Google, and Facebook. It helped to estimate a customer acquisition cost and optimize a campaign so that the user LTV (lifetime value) was higher than the CAC.
Here is the comparison of user retention rates from Google and PropellerAds: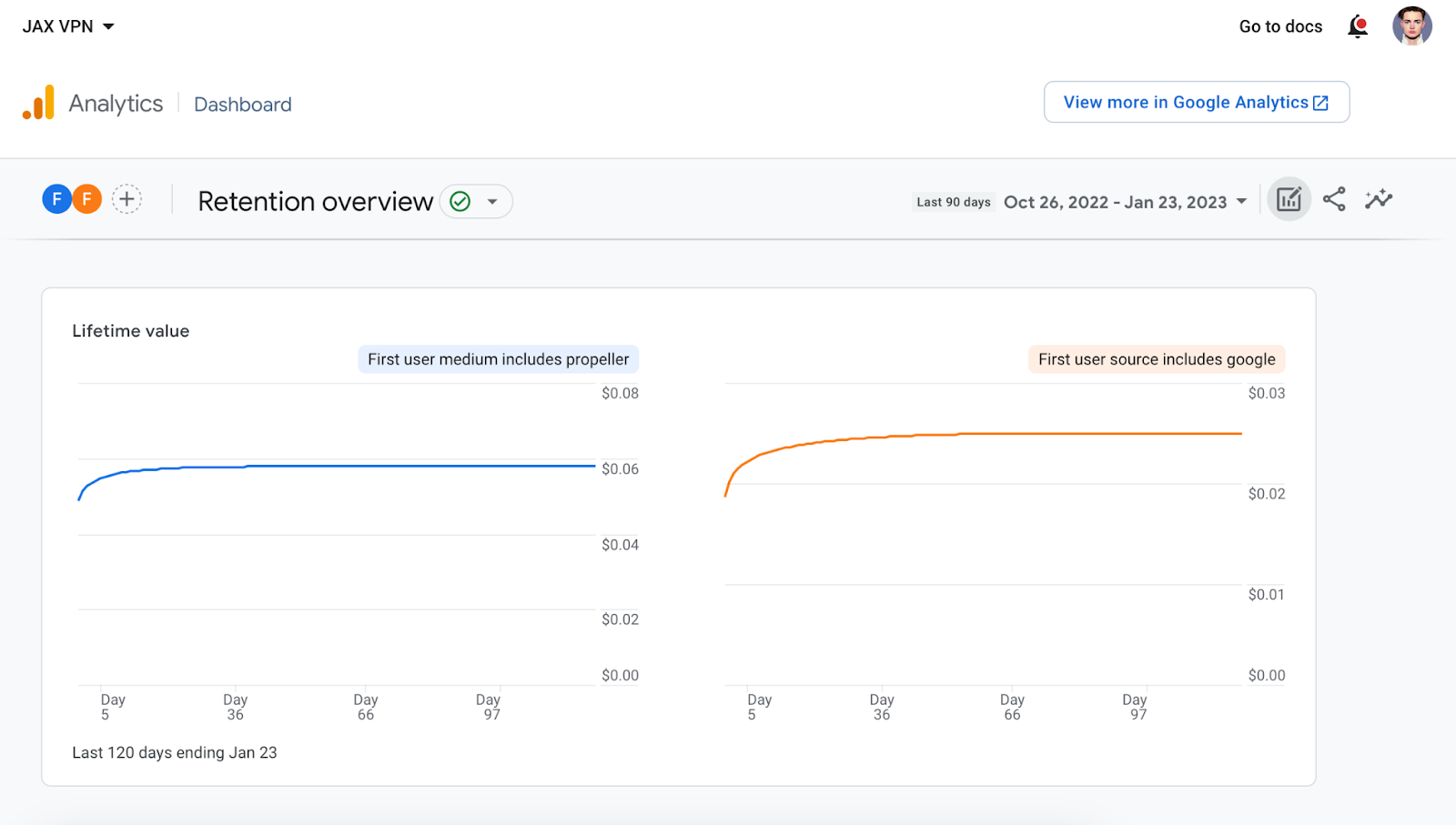 Ilya Pasyuk: The most time-consuming and important part of the process is the consideration of monetization and deciding on how the app will bring economic benefits in the long term run. Our key to success is placing a greater focus on this step.
---
How to Monetize Utility Apps
We already mentioned a very popular monetization model for most apps from the Utility and other verticals. Let's now consider some more details and tips related to monetization.
---
Google AdMob And Mediation
The most common way to monetize apps is Google Admob, an ad network especially aimed at app owners. With AdMob, the app starts showing users relevant ads according to the ad units you set.
What AppLabz strongly recommends to do, is to consider the AdMob mediation feature, which allows you to show ads from various sources, including third-party networks. The set of these networks is called a mediation group.
This way, you will strive for the best targeting, as every ad request will be automatically forwarded to several networks, and, in the end, the app will show the most appropriate ad.
When working with mediation, you need to consider bidding and waterfall models:
Bidding model. You integrate AdMob into your app. Then, AdMob starts evaluating your app to determine the cost per 1,000 impressions (CPM) and sends requests to all ad sources from your mediation group. The sources begin to compete in the auction, and the platform, ready to pay the highest bid, will win the auction and show the ad.
Waterfall model. In this model, an auction is not about the price an ad network is willing to pay. You set a range of desired CPM bids, and the server begins to check all sources, one by one, from highest to lowest historical price for 1,000 impressions. The first source ready to pay this price will be the winner.
What is the AppLabz recommendation about the choice of the model and mediation group?
Ilya Pasyuk: Depending on your location or app category, you can find various ways to combine bidding and waterfall models. However, my tip is to start with the bidding model: the waterfall implies manual settings and requires much experience. Our approach is always based on some research, so the general recipe is the following: integrate AdMob, add mediation with several other networks, where Facebook is always a must — and analyze which networks will best suit your particular needs.
---
Prior Research
Before you start your monetization efforts with AdMob mediation, it's essential to understand what exactly you should include in your mediation group. Ilya suggests two ways how you can get an idea of the best options:
Method 1. Download the .apk files of the most successful competitors and, with the help of developers, analyze the networks used for the monetization of such apps. Alternatively, you can use the Virus Total service — it can help to check which mediation platforms are installed on your competitor's app without any developer's experience.
Method 2. Use special analytics tools like Sensor Tower: they are also aimed at competitive analysis but does it automatically and has several extended features for marketers.
Ilya Pasyuk: it's also essential to think of the right pricing plan. Again, you can compare subscription prices at your closest competitors or make A/B testing: suggest different costs to several user groups and compare the purchase rates.
---
Subscription Management and Performance Tracking
All information about in-app purchases are basically available in developer accounts at Google Play and App Store. However, there are some third-party solutions with advanced features: for example, Superwalls.com or Revenue Cat.
Services like that allow you to manage paid products, track subscribers and their purchases and also run A/B tests. For example, if you want to compare two subscription screens — a default and, say, the one with a Christmas theme — the results of this comparison will be accurately visualized in the service.
Finally, how to know how the app is performing? AppLabz uses the following tracking tools:
Google Analytics for general statistics
Firebase Crashlytics for tracking mistakes inside an app and determining the groups of errors that require attention first
Adjust/Appsflyer for tracking ad campaigns and their return on investment
---
To Sum Up
This guide can be mostly applied to most sorts of apps — not only the ones from the Utility niche. Still, the Utility market inspires much confidence with its evergreen popularity and well-known ways to monetize and promote the apps.
According to AppLabz's experience, the right approach to monetization combined with app promotion via PropellerAds, a part of AdTech Holding, brings the best results in the long-term play. Overall, the biggest part of any app development and release is the research. It includes A/B testing, analyzing statistics, and competitors overview — so our main recommendation is to rely on the industry benchmarks but mind your particular needs and input data at the same time.