AdTech Holding Joins City Friends Club to Clean Up Limassol
by The Content Team at AdTech
27 March, 2023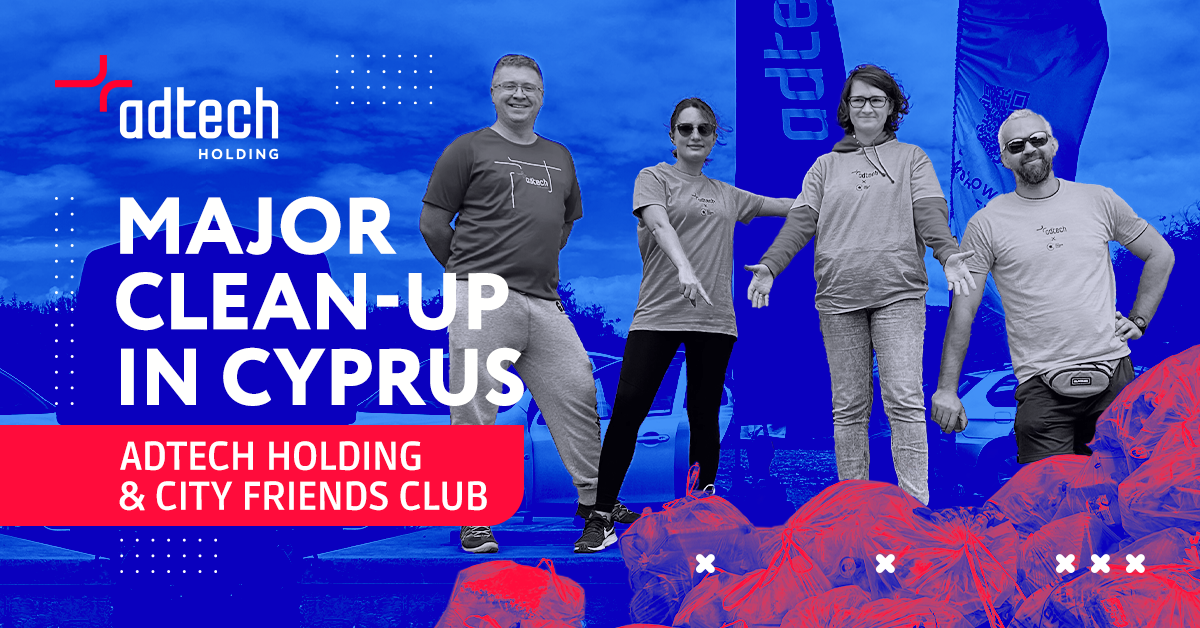 AdTech Holding took part in the Cyprus cleanup and gathered 57 bags of trash at the recreational area of Pyrgos.
The beautiful island of Cyprus, known for its picturesque landscapes and pristine beaches, is facing a severe waste issue that demands urgent attention.
With Cypriots producing a staggering 609 kg of waste per person annually, the country ranked as the seventh highest in the European Union for per capita production of municipal solid waste in 2020. To put this into perspective, the average across the EU was just 517 kg per person.
In light of this pressing issue, AdTech Holding has decided to step up and join forces with City Friends Club for a Clean Up event on March 25th, 2023, targeting the stunning city of Limassol.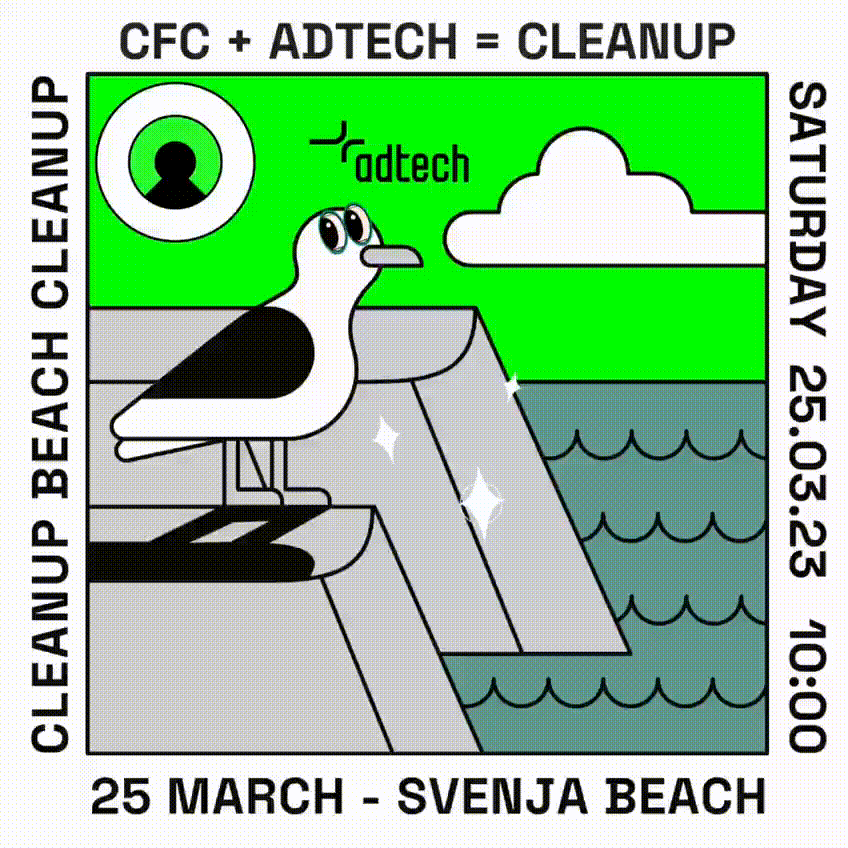 The event aims to not only clean up the vibrant city of Limassol, but also raise awareness about the crucial need for a cleaner, greener urban environment. This year, AdTech Holding's employees were cleaning Svenja Beach in Pyrgos, the recreational area near Limassol. Company team members helped reduce the waste littering at the beach and surrounding grounds. As a result, 57 bags of PMD and two trash containers were collected and sent for recycling.
---
Championing Environmental Initiatives Inside and Outside of the Office
AdTech Holding's passion for a greener Cyprus doesn't stop at cleanup events. They're making a real difference by incorporating eco-friendly practices right in their offices.
Waste separation initiatives are a great example: by sorting waste like paper, plastic, batteries, and bottle caps, AdTech Holding is making recycling easier and reducing the environmental impact of waste disposal. In addition to waste separation, the team has also organized tree planting in Cyprus. To make these initiatives a lifestyle practice, the company's HR team constantly produces educational materials on how to be more eco-friendly.
Even these small steps have a big impact – helping with recycling, which conserves resources, cuts pollution, and sends less waste to landfills, incinerators, or, worse, scattered across the island.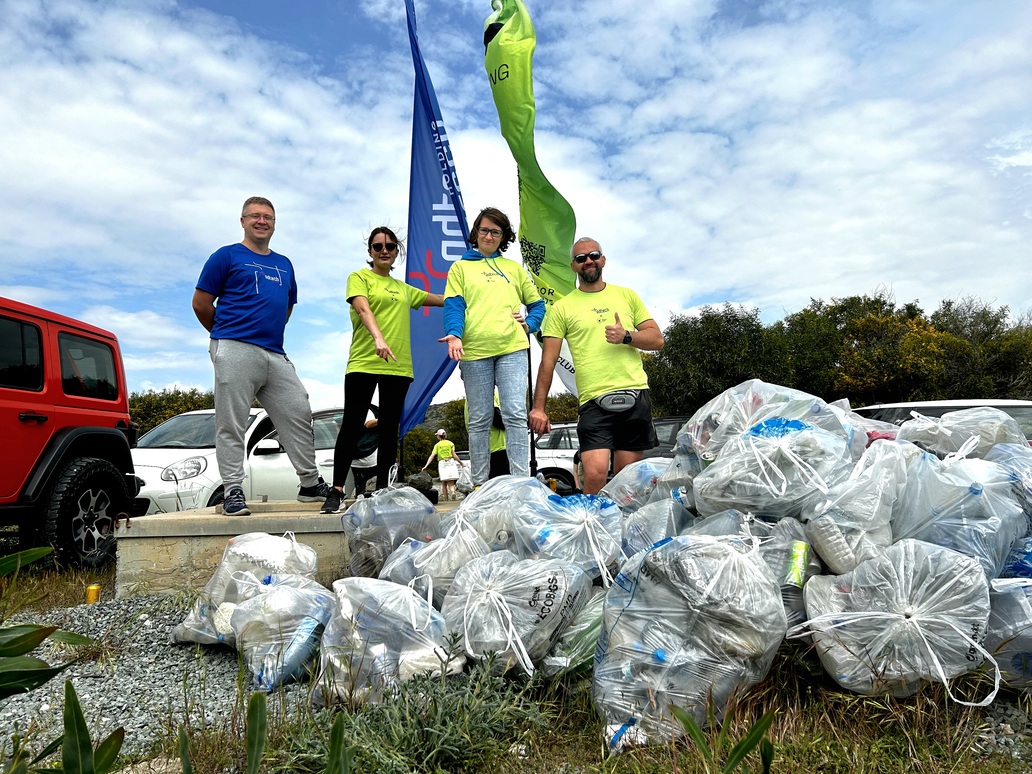 Not only that, but they're encouraging other companies to join the cause and adopt eco-friendly practices in their daily operations with the belief that everyone can do their part to create a more sustainable future for our island and the world.
---
Supporting Social Organizations in Cyprus: AdTech Holding's Commitment to Social Responsibility
This isn't the first time that AdTech Holding has extended its support to charitable organizations in Cyprus.
In fact, it has a long history of supporting causes that align with its company values. Last year alone, the company made a sizable donation to Malcolm's Cats, a shelter that provides a safe and loving home to stray cats in Cyprus, as well as donating to Love Nest, a foster care service that takes legal care of children whose parents are unable to.
---
Inspiring Others to Make a Difference
The collaboration with City Friends Club is just one example of AdTech Holding's dedication to creating a better world for everyone. Together, they will work to beautify the city, protect the environment, and make a positive impact on the lives of tourists, visitors, and those who call Limassol home.
AdTech Holding's CEO, Alex Vasekin, shares his enthusiasm for the Clean Up event, saying,
"It's truly inspiring to see our community come together to care for our environment and preserve the beauty of our island. The excitement and camaraderie at this event demonstrates the power of collective action. We believe that when businesses and individuals unite for a common cause, we can create lasting, positive change for Cyprus and beyond."
With this event, AdTech Holding hopes to inspire other companies to step up and make a difference in their communities, showing that even the smallest actions can make a big impact when we work together.