[HackAdTech Special] How to prepare for a Hackathon?
by The Content Team at AdTech
12 October, 2023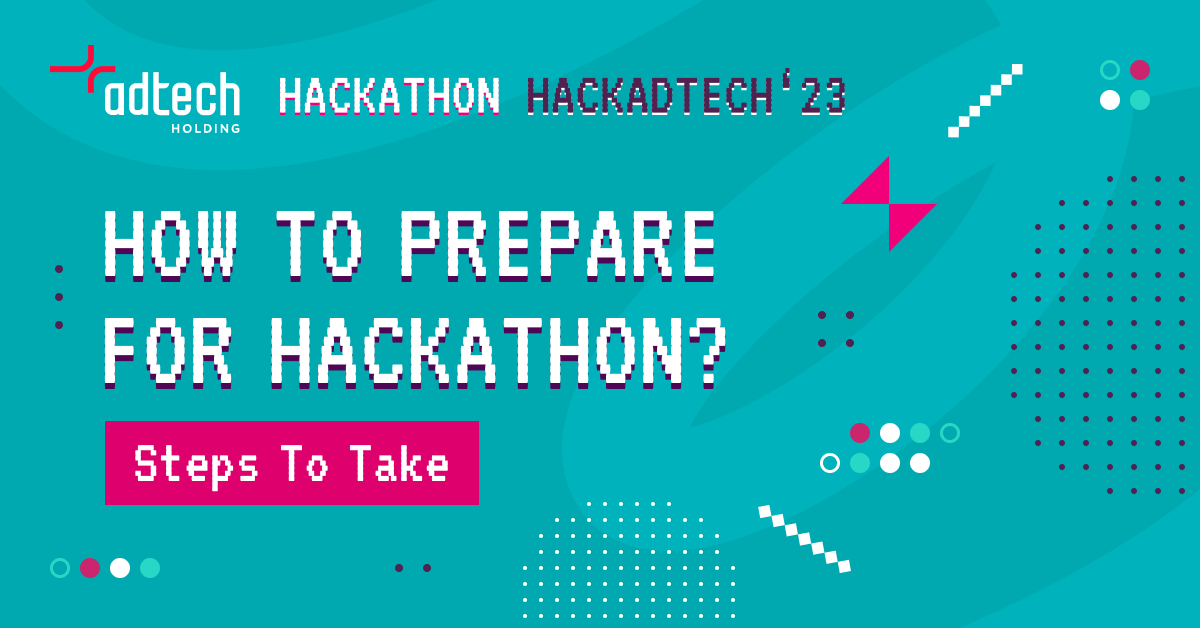 The biggest Cyprus IT event is getting closer, and we are sure some great ideas and strategies are popping up and blooming as we speak. We are very much looking forward to seeing our participants in action and achieving what they intended, so we decided to give them some guidance on how to get ready for the Hackathon challenge.
We talked to Sergey Kozlov, last year's Hackathon jury member and mentor, and asked him to provide some insights and suggestions on how to prepare for this tournament, both mentally and physically.
Based on his experience, here's what you should do a day or two before the wheel starts turning:
---
Step 1: Make sure to have a good night's rest
Given it's such a short time frame for a project to get started, be executed right, and finally be presented, it's very important not to exhaust yourself right before the event. The whole thing will be intense and demanding, so you need to preserve your energy.
---
Step 2: Assess your needs
We will make sure you have all the comfort and everything you need in place. But think in advance if you'll need an extra screen, an additional pillow for your back, or maybe some medication – and bring it with you.
Last year, we had several situations where participants needed medicine for a headache or stomach ache, and we managed to get them, but it was an unexpected situation.
---
Step 3: Discuss the roles within the team
It's essential for the team to work like a well-oiled machine. So everybody needs to know what's their part and to get ready to step up. Based on last year's experience, some competitors struggled with presenting their projects for instance. In that matter, our advice is to pick a person who doesn't have stage fright and is good with words.
"These are mostly tech guys, and it can be difficult for them to elaborate on the idea and what's done without focusing on technical details. Last year, I saw a few of them rehearsing what and how they are going to present, and I think that's great because it probably helped them stay on course and not get too nervous"

Sergey explained.
Note: Rehearsing is something you should seriously consider doing, and not only for the sake of having a smooth presentation, but to make sure technically everything is okay, and your demo is working. Remember, you have a very limited time to introduce your product; you don't want to lose the audience's interest by making them wait for you to fix a bug.
---
Step 4: Get the right mindset
Regardless of the results you will achieve at the end of this competition, approach it the right way. Be aware of the business meaning of your project and the fact that the thing you are working on can help the Cyprus community or contribute to the industry we are all part of.
Although the prizes are the final aim, they are not the only thing that counts. Your Hackathon project might be the next big thing or at least a profitable startup.
Extra advice from Sergey: Guys, rely on mentors. We are there for a reason, and that's to help you out if you get stuck at some point or if you find yourself in doubt about how to proceed. You can discuss some issues with us and get feedback, so do not hesitate to use your right to consult with a mentor.
---
First-hand tips
We also asked a couple of people who already participated in various Hackathons around the world, or plan to do so this time around, how they will get ready for this supreme challenge.
"For me, the best way to concentrate and prepare for a Hackathon is to get enough sleep, have a healthy breakfast in the morning, and treat myself to my favorite coffee. The main thing is to clear your head of other things and, of course, choose a team with an idea that inspires you"

Ilia Lesnykh, developer.
Vladimir Bykov, the UX/UI designer, had already experienced the Hackathon rush, but this is the first time he's participating in the idea creation process:
"Hackathon is like a mental switch for me because I can generate some strange and funny ideas. I use electronic or metal music to concentrate, and I drink a lot of water."
"Before the competition begins, invest some time in research. Brainstorm beforehand and find an idea that will be interesting and challenging for you. Experiment with new approaches you've been wanting to try out, because Hackathon is about fun! Also, prioritize rest. Most probably you won't get enough sleep during the Hackathon, so you need a good rest before that to stay sharp and focused. And finally – plan a post-Hackathon celebration. Hard work should be rewarded"

Maria Matveeva, data scientist.
We hope you'll find this little guide helpful. Best of luck to everyone! See you on the 25th of November.
Here, you can Register and Join HackAdTech'23, and for more regular updates, visit our Instagram page.