Carbon Emissions and AdTech Industry: Why We Cannot Stay Aside?
by The Content Team at AdTech
29 May, 2023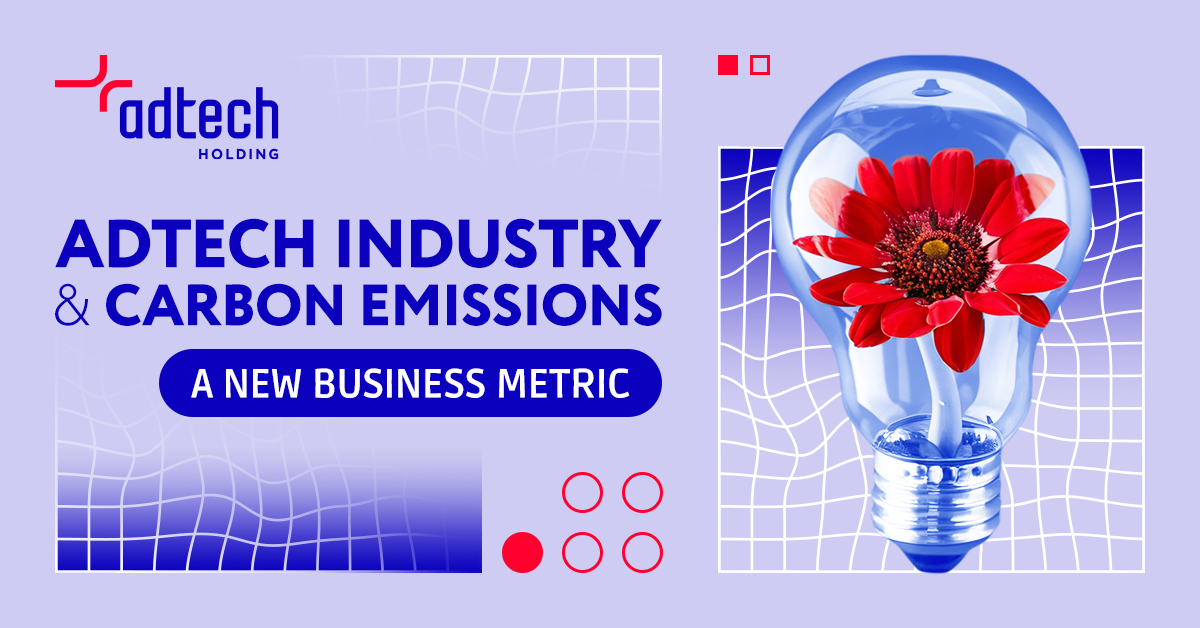 How digital advertising impacts environment and what corporations can do about it? AdTech Holding offers a discussion.
What does it mean for a large corporation to go really global? AdTech Holding is assured that it means going far beyond business ambitions by using financial and communicational opportunities to make a valuable social impact.
This time, we want to raise a question: is there a way to respond to growing environmental issues caused by digital advertising, especially something as significant as carbon footprint? A few companies are concerned by the issue today, but as time flows, the situation becomes more and more insistent.
---
Carbon emissions and ads: what is all about?
There is a common misconception about digital advertising being less harmful for the environment than traditional advertising. However, even though non-digital advertising requires paper and ink to be delivered, a single ad campaign with 1 MLN impressions produces the same amount of carbon emissions as a round-trip flight from Boston to London. This makes about 3,5% of global greenhouse gas emissions per year.
Where do those emissions come from?
Advertiser's facilities
Power grid energy consumption
Advertiser's media buying supply chain
The hazard is real and there is work to be done about it. The first thing to take care of – carbon emissions reporting and global standards for all companies to follow.
---
What to do?
The main questions arise at this stage: how to regulate the negative impact of digital advertising?
Ideally, corporations need a leading organization to control their activity and demand precise reports on carbon emissions. This also entails technologies to measure and track these emissions. Both the reporting system and measuring solutions will make it easier for corporations to control their activity, plus – obligation to report will encourage them to treat the issue more seriously.
---
Essential collective effort to make
Environmental wellbeing is a matter of cooperation. Here is how we see it for now:
From the side of corporations: favor regular reporting, inform customers on the issue of carbon emissions, and develop solutions to measure and reduce the negative impact of their advertising activity;
From the side of brands and agencies: choose partners that measure and reduce their carbon emissions.
By the way, here, brands and agencies have a really strong tool of influence. Since SSPs (supply-side platforms) depend on advertisers' demand, a brand's choice to cooperate with environmental-friendly exchanges can change the game and motivate SSPs to offer such solutions.
---
AdTech's contribution
AdTech Holding has already embraced a number of eco-friendly practices:
We use energy-efficient appliances and solar panels
We prioritize recycling and do trash sorting in the office
We support tree-planting, cleaning events, and support organizations concerned with environmental issues
As for the carbon emissions precisely, here is what Konstantin Kuznetsov, the Chief Product Officer at AdTech Holding, has to say about company's attempts to deal with them:
"Two major things we already do about the issue of carbon emissions are optimized data storage and ad delivery.
First, we constantly work with the volumes of stored data and never collect/keep anything that is not necessary. To achieve this, we have implemented a chain of processes, like, we get rid of the old data over time and perform regular cleaning. We analyze data constantly and improve the data gathering process to avoid needless energy consumption.
Second, we work hard to deliver ads as fast and optimally as modern technologies allow. Namely, we test different approaches, work on our infrastructure, and actively use CDN solutions."
AdTech Holding encourages all advertising companies, agencies and brands to take responsibility. We are sure that together we can ensure a better future!