AdTech Holding is Officially Sponsoring the Limassol Spartans Sports Club
by The Content Team at AdTech
08 September, 2023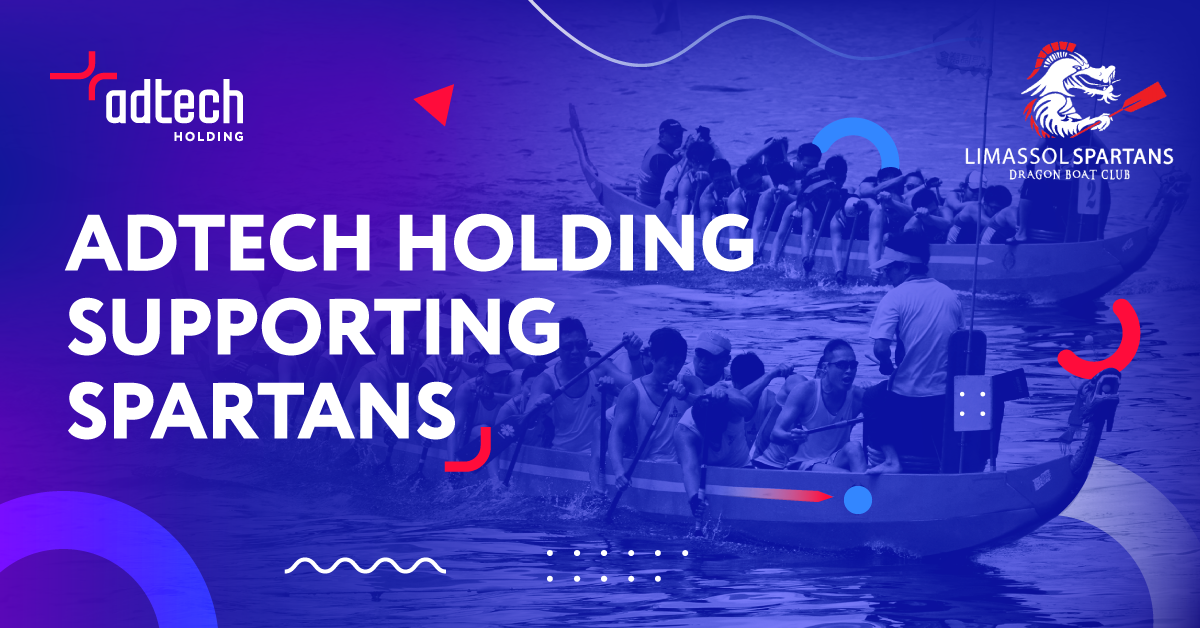 AdTech Holding is now officially supporting the Limassol Spartans Dragon Boat Club!
AdTech Holding is excited to announce our new partnership with the Limassol Spartans Dragon Boat Club right here in Cyprus! We are officially sponsoring the dragon boating club and supporting many of its sports activities. 
We are not only thrilled to be supporting this local organization through an ongoing partnership, but we're also happy to contribute to the well-being of local residents and club members – including some of our employees who participate in these events regularly.
In addition to our support, the Limassol Spartans will also proudly feature our company's logo on their T-shirts. This will represent the values of teamwork, determination, and passion shared by both the company and the sports club. 
---
About the Limassol Spartans Sports Club
As we mentioned earlier, the Limassol Spartans sports club is one of the dragon boat racing teams in Cyprus that compete either in races that take place on lakes or in the Mediterranean Sea. 
Already one of the fastest aquatic sports in the island nation, dragon boating was first established in Cyprus back in 2008 and it was adopted directly from Chinese culture.
Since then, clubs like the Limassol Spartans have been bringing attention to this competitive activity, which inspired AdTech Holding to get involved, become a partner, and sponsor the dragon boating community. 
Now, AdTech Holding has established itself as an official partner of the Limassol Spartans. 
Here are some of the initiatives the club participated in:
Educating the Community on Dragon Boating
The Limassol Spartans are an open team, so you can contact the club if you want to learn about dragon boating, where it comes from, and how it's practiced. 
In-Person Training
Practices are organized on the weekend to adapt to most schedules, and the exact dynamic varies depending on upcoming competitions, events, and attendees.
Competitions and Events
In addition to participating in local dragon boat competitions, the Limassol Spartans also participate in international competitions and other events like team trips. 
---
A Contribution to the Local Community
"Our partnership with Limassol Spartans Sports Club means a lot more than just contributing financially. It shows how much we care about our community and how we believe sports can bring people together," says Amy Savva, who leads the Compliance Team at AdTech Holding. She continues, "At AdTech Holding, we know and understand the value of working as a team, and it's something that we know can benefit the community. I get to see this in action every year when I join some of the dragon boat races."
Amy Savva also adds, "This partnership is an opportunity for AdTech Holding to help local people and encourage our community to be active and healthy. We're excited to start this journey and plan to support this great initiative for a long time."
This is just one of the many initiatives that AdTech Holding has spearheaded and will continue to champion for the foreseeable future.
---
AdTech Holding's Contribution and Involvement
Embracing pioneering solutions, data-infused algorithms, and unmatched client support, AdTech Holding empowers global enterprises to optimize their online advertising activities, leverage optimal traffic sources, and seamlessly execute strategies that have a significant impact on their marketing campaigns and overall bottom line.
In short, we empower clients to maximize their online advertising endeavors, consistently achieving results that meet or exceed their expectations.