In Good Company: AdTech Holding Certified as a Great Place to Work in Cyprus
by The Content Team at AdTech
10 August, 2023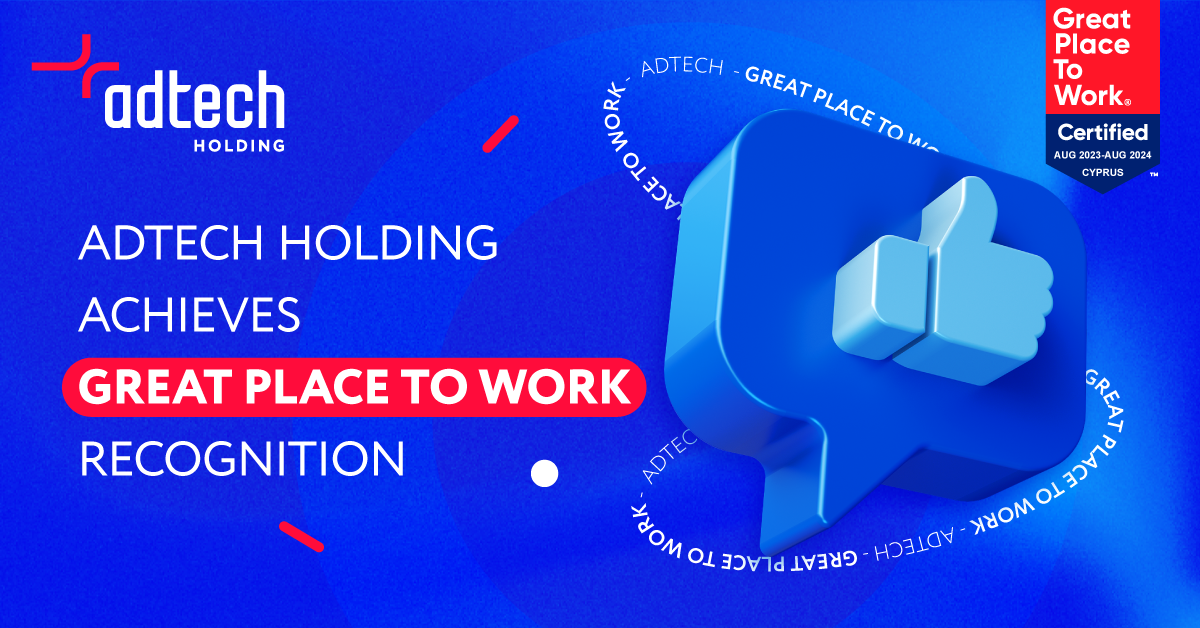 After the anonymous employees feedback, AdTech Holding achieved a Great Place to Work in Cyprus Certification.
We are thrilled to share that AdTech Holding is now certified as a Great Place to Work in Cyprus. This accolade isn't just a feather in our cap — it's a testament to our unwavering commitment to the wellbeing of our team and a reflection of their trust in us.
The best part? This award is based on our team's genuine feedback.
Our Chief Administrative Officer, Elena Dolya, shares our excitement:
"Getting certified as the Great Place to Work is a very significant achievement for us because, as a company, we put much effort into creating comfortable working environments for our employees. I personally see the greatest worth in the fact the certification is based on the anonymous employee survey. This means that everyone has an opportunity to share their honest opinions safely. And we are proud that this honest evaluation brought us the honor of being called the Great Place to Work."
---
Our Growth Story
Starting as a small enterprise in Cyprus in 2011, our journey to becoming an industry leader has been nothing short of inspiring. Today, we pride ourselves on a dynamic team of 500+ dedicated professionals in our Cyprus office. Our approach to growth is a blend of integrating adept experts and giving opportunities to fresh, innovative minds.
---
Investing in Our Team
The essence of AdTech Holding is its people. Our investment in their growth is palpable. We've devised programs catering to every stage of an individual's career, ensuring they have the tools and knowledge to shine. From individualized programs for our newest recruits to leadership modules for our senior members, the emphasis is on holistic development. The ProLeader course stands testament to this, preparing the leaders of tomorrow.
---
Cultivating Trust and Transparency
We've fostered an ecosystem where open dialogue is encouraged and valued. Transparent interactions ensure we're aligned in our vision and purpose. The feedback loop, especially from those fresh on board, provides insights that are invaluable for our continual evolution.
---
Work-Life Balance
In our rapidly advancing world, finding the balance between professional pursuits and personal downtime is vital. We've taken proactive steps to embed flexibility in our work model. From versatile work schedules to allocating a day devoid of meetings, the aim is to prioritize mental well-being. The "Choose Your Benefit" initiative is a testament to our adaptability, allowing every team member to tailor their benefits.
---
What Sets Us Apart
Elena highlights the unique experience at AdTech Holding:
"I moved to Cyprus because I got a job offer from this company, and after five years, I am still here and happy to be a part of AdTech Holding!"
---
Looking Forward
Being recognized as a Great Place to Work in Cyprus is both an honor and a motivation. It drives us to keep our commitment strong and continue making AdTech Holding a top choice for professionals.